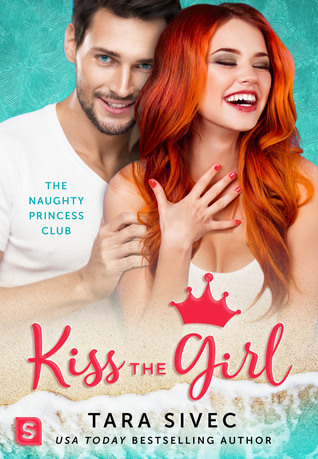 Publication Date: September 2018
Series: Naughty Princess Club #3
Rating: 5 Stars
Official Blurb:
A struggling antiques collector finds herself falling in love with a millionaire playboy; but can she ever be a part of his world?
Meet the Naughty Princess Club, a series from USA Today bestselling author Tara Sivec that brings readers to Fairytale Lane and the hilarity—and romance—that three women fall into once they decide to strut their stuff and bring on their own happily ever after.
While her friends have broken free of their insecurities, Ariel Waters is struggling to come out of her shell. Her ex-husband took away her voice and her self-confidence, and Ariel is drowning under a sea of debt to afford the alimony she has to pay him. She refuses to ever fall for a man's charms again, and is determined to make her own way.
When her house and her beloved antiques are taken by the bank after too many missed payments, Ariel finds herself adrift until the infuriatingly charming Eric Sailor comes to her rescue. Although she can't stand the millionaire playboy, Eric's kindness and unconditional support reveal hidden depths and a love that Ariel never imagined she could find.
But there are outside influences who will stop at nothing to keep them apart; can Ariel and Eric weather the storm and find a way to be together?
Review: I have read a lot of books, but I have to say this is my all-time favorite book ever written. The cover is perfect, the chemistry is perfect, and every single word in this book is perfect. I literally could not get enough. I loved the story so much that I have actually read it twice already, and I will probably read it several more times. Tara Sivec blew the final book of the Naughty Princess Club out of the water. I'm still in a book hangover.
Ariel is cocky, confident, and a leader for the Naughty Princess Club and her life is in complete order. Well… at least that's what everyone thinks. Deep down, Ariel has some major issues left over from her ex. He literally flipped her whole world upside down, and it's been there ever since. She's struggling to make ends meet, and now, she is losing everything she loves, until Eric steps into the picture. Ariel doesn't like the handsome playboy, but she can't hide her emotions the more he does for her without ever asking for anything in return. Can Ariel open her heart back up again, or is she destined to be miserable forever?
I swear Eric is the perfect guy in every way. I loved him so much!!! Ariel and Eric make the perfect couple. They are both funny, and their chemistry is off the charts. I have loved this series since the first one, but this book is PURE PERFECTION! I'm still swooning, and I probably will be for a while.