Lauren's Top 5 Reads of 2017
Lauren's Top 5 Reads of 2017
#1 Black Swan Affair by KL Kreig
Where do I even begin with this book? As a long time KL Kreig fan, I have to admit I'm ashamed that it took me this long to read this book because it is simply amazing. Right off the bat, I knew that the twists and turns of this book would be keeping me on my toes and guessing what was going to happen next with each page turn. I wasn't wrong, and I am so happy for it. I read this in a less than two hours at work so that should speak for itself right there.
Black Swan Affair isn't the typical romance story nor it is the typical dark romance. It's something completely unique on its own pages. It's hard to explain a book like this and I think as a reader that it would make it all the more appealing to those looking for something different. While this book might not be everyone's cup of tea, I'm talking to the cheater/love triangle haters of the world, it wasn't as bad as most would think. Kreig doesn't hide the plot line, but tells it as it is from the very beginning. This romance story is not hearts and flowers, but a blood, sweat, and tears kind of romance. It's about corruption, betrayal, and the innocents that are in the cross-hairs of the bad intentions of others. The only work that I could even think to some of this story is transcending. It takes what we as readers know in a good/bad romance and makes it something else. This is by far one of the best books that I have read in my many years of reading, and it's no wonder that Black Swan Affair landed this marvelously talented author on the bestseller's list.
#2 Bossed by Sloane Howell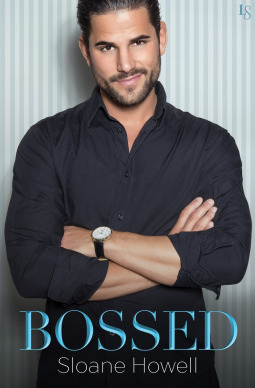 Yes, that's right. I am writing a letter to you instead of a more traditional review. It's unorthodox, but hey, it's mine and I'll write what I want to. *cue 80's dance party music* I have been following your hilarious posts on Facebook for quite some time yet I had never picked up one of your books. I am currently kicking myself for this oversight. Like hard enough that my grandkids will feel it someday.
Color me surprised when I saw Bossed on Netgalley a few weeks back. I thought, "Now is my chance to give your books a try." I requested and shortly had it in my hands. The suspense of what its digital pages killed me enough that I snuck off into a quiet place at work and devoured every fucking word. Your characters were charming and exhausting, but the humor is what hooked me. Well, that is until the ending broke my "non-emotional" flood gates.
Jenny became my spirit animal.
Like her, I struggled with my father's illness and balancing my work life. Reading her fictional plight took me back to those long days of work and going to my parent's house or the hospital to relive whoever had the day shift with Dad. That part. That amazingly emotional part of this story is what made me love this book. The humor, the angst, and the romance were all side boos to Jenny and her dad. Her story is so similar to countless others in real life right now.
Bossed is by far one of the best books I have ever read even if part of the plot line revolved around baseball. Sorry, but I'm a football girl at heart. My next letter will be a two-part apology for that and my love of pineapple on pizza.
To summarize this long-winded semi-review. Buy this book. You will not regret it. Just like I don't regret ordering that Hawaiian pizza right now.
After falling in love and heart ache with Hotshot that Ms. Sanders had me at ARC even as much as I cried while reading it. It gave me a rare case of the feels.
Sexy Six is just that. I devoured this second chance romance book. Where Hotshot had angst, Sexy Six had action. Well, it honestly had everything except Sasha, but I digress. Nick and Grace's story is filled with ups, downs, and in-betweens. The chemistry between these two characters are off the charts and you can't help, but fall in love with them. Grace's grandfather is a hoot, and the humor between the characters just sucked me in more. I will say Shaw and Bizzy fans will get their lips wet on seeing their favorite couple again.
Sanders has a gift for writing complex characters in an even more complex world. She sucks you in from the first page and leaves you with such a book hangover that you want to re-read it immediately. That being said, when do I get Mathis and Claire, because, well, I need it now.
#4 Bound by Family by Ryan Michele
Okay… now that I have that out of the way.
Cooper Cruz as grown up and hot diggity daffodil is he just like his alpha male brooding father. Cruz and Princess raised a fine man of Ravage MC stock. Cooper is tough as nails, and loyal to the end when it comes to his club and his brothers. He was built for being a member of the club from the day he was born. It's so funny seeing him from such a young age in Cruz and Princess' story to now. He's no longer a child, but a man seeking to make his mark on the Ravage world while making his dad and grandfather proud. The one downside to Cooper? He doesn't care one lick about claiming an ol' lady. That is… until one flooded laundromat puts the perfect woman right in front of him.
Bristyl is a spit-fire of a woman. Having been raised inside of her father's MC, she's tough on the inside and the outside. Never really belonging to the club as a woman, she faces the most scrutiny from her father and brothers. She takes her chance at striking out for a bit of freedom, but even that lands her in hot water… with Cooper. As she struggles to find her own footing in the male dominated MC world, she can't shake him from her head. With her father and brothers, she lives the life of a bird in a gilded cage. With Cooper, she feels her first since of freedom. That is until the status quo changes, and she is shoved into the middle of a multi-club controversy.
Things are never easy in the MC world, but Michele makes us love each and every one of her characters more than the book before it. With seeing Cooper as an adult, I fell in love with him so much more than I did when he was little. I am stoked beyond belief to get to read about the next generation of Ravage MC-ers in this new series. Let's ride into the next book soon!
#5 Lost Rider by Harper Sloan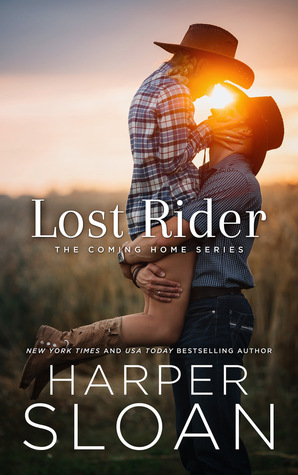 Have you ever picked up a book and just known you were going to love it? No? Yes? Well, Lost Rider was just that type of book for me. I've been a fan of Ms. Harper's work for quite a while now so this was an instant one-click for me. From the moment a pie flew into Maverick's face, I was hooked. Sloan as this ability to weave in humor to heartfelt and emotional scenes in her books. Lost Rider is no different. It's underlying dark tones of the Davis Family closet of skeletons is perfectly balanced with the light humor throughout the book.
Just like Leighton, I was head over boots for Maverick. Even though he made a misguided young man move before getting out of dodge, his heart was always back in Texas with her. No matter how hard he tried to ride away his feelings for her. And, the same went for Leighton. Love has a funny way of enduring the most painful words and long distances when it's real, true love. It's stories like these that give anyone hope that someday lost love will come back to us.
Lost Rider is a heartfelt, emotional ride on the back of the world's largest and meanest bull. Sure the bumps and bucks are hard to get through, but at the end of that eight seconds ride, it's all worth the pain. Perfect start to an amazing series to come.