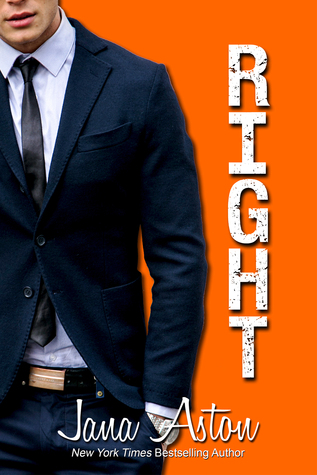 Publication Date: April 6, 2016

Official Blurb:
My childhood was perfect.
I've led a charmed life, and I'm not going to blow it now by picking the wrong guy.
I've got my sights set on my brother's best friend.
He's known my family for years. He's reliable and kind and handsome.
Sure, he's been avoiding me since I was six.
I'm a bit aggressive for him, maybe.
But he's the one… right?
Review: I adored Jana's first book Wrong, but I am in LOVE with Right! Wrong has a lot of wonderful parts but Right just hits all the right spots… it has to be Everly right?
Everly is one of the funniest chicks I have ever read about. She is cute and quirky and always keeps things interesting. She has been in love with Finn, her brother's best friend, since she was six years old. She knew from the moment she met him that he was her future. For years, Everly has planned on Finn being the man for her and that one day he would stop avoiding her and actually see her for the wonderful person she is. Unfortunately that hasn't happened yet, but Everly is prepared to make him see just how much he actually needs her. What she doesn't see coming is Sawyer and he sure throws her for a loop she definitely didn't plan on.
I was Team freaking Sawyer from the moment he was introduced. He is not only sexy as hell, but he gives Everly a run for her money. Sawyer is a perfect match for Everly, but she is still over in Finn land waiting for her HEA. But Sawyer isn't one to easily give up and the game is about to change for Everly. This book had me literally laughing out loud. I don't know how Jana does it, but I swear I felt like Everly was my best friend. Hands down Sawyer is amazing no questions asked. Of course there are twists and turns in this book and it keeps you guessing from time to time, but that ending... PERFECTION!! I can't wait to see what Jana brings next… it could be just me, but I feel like Chloe has a story to tell. Bring on Chloe!!