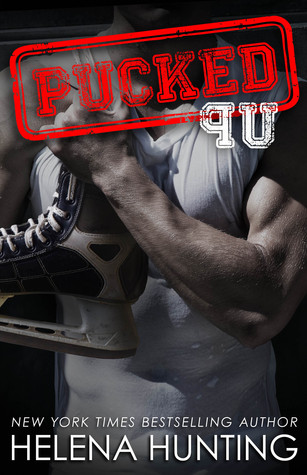 SUMMARY:
Miller "Buck" Butterson has been banging his way through life ever since a puck to the face fixed his messed up front teeth. After five years in the NHL, deflecting goals on the ice and scoring them with puck bunnies, Miller has decided he's ready for a girlfriend. A real, non-bunny girlfriend to take on dates, and not jump into bed with after five seconds of conversation.
Miller thinks he's found that woman in his teammate's sister. Except, unlike team captain and all-around nice guy Alex Waters—who happens to date his stepsister, Miller's media reputation as a manwhore is well earned. Beyond that minor detail, Miller doesn't know the first thing about relationships or the time and effort they require.
Miller learns—eventually—that if he wants to make Sunshine "Sunny" Waters fall for him, he's going to have to do a whole lot more than show her his stick skills in the bedroom.
*~*~*~*~* 5 STARS *~*~*~*~*
I was excited to read Miller's story but I was kind of nervous too because of his reputation. But I can honestly say I actually loved this book better than the first. Yes the characters pissed me off a little more but it was amazing to see the changes and the struggles that Miller had to over come. Oh and it's hilarious!!!
Miller AKA Buck has a horrible reputation of being a manwhore and he knows it. But he is tired of the same ole bunnies and the one night stands. Sunny is like a breathe of fresh air for Miller. She is everything he has been looking for but everyone is fighting against them being together. Well everyone but Violent she is the only one standing behind Buck.
I really like Sunny but at times she pissed me off so bad!! Sunny has strong feelings for Miller but she keeps letting his reputation get in her way. Miller is so much different in person than she thought but she is letting others run her life for her. I wanted to crawl through my kindle and smack her quite a few times and yell wake up WOMAN!
Miller is totally different than I imagined and I fell completely in love with the yeti right away. Miller was trying so hard to be good and kept finding himself in crazy situations. There are some super funny parts in this book. At one point, I had tears in my eyes. I honestly can't wait for the next book!! Love the YETI!!!!
Amazon.com
Amazon.ca
Amazon.co.uk
Amazon.au
iTunes
B&N
Kobo