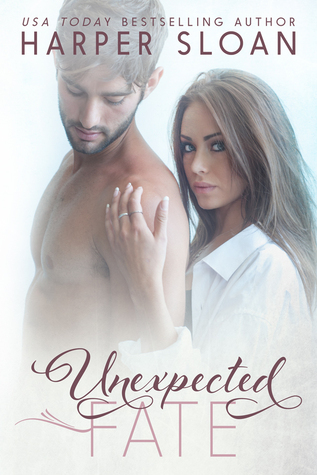 Official Blurb:
Have you ever felt like you were living your life for a future that was predetermined? Like there was some bigger picture you just prayed you would someday see clearly? That picture has been crystal clear to me since I was old enough to recognize it for just what it was.

Or I should say recognize him for who he was.

I've loved Cohen Cage since I was a small child. He's been my everything for the last twenty-two years. I've loved him through every girlfriend he's ever brought home. Through his college years and then mine. I've loved him through two deployments. And ever since the day I told him how I felt, he's acted like I'm a stranger.

My name is Danielle Reid, and it's time for me to get my man.

Our future is an unexpected fate, and no matter what our parents, siblings, and friends say…it's going to be worth every second of the fight to make it happen.
This book… trumps every single ONE of the Corps Security books. Hell, maybe even the entire series. While the men and women we all grew to love in the previous series are all there, Hope Town is more about their kids. The bossiness, alpha men with softened hearts are back with their normal sass and attitude, but this time we get to see a different side of the… as parents, and not the main characters. You might be wondering if they are still the same people that we left behind as the Corp Security series came to close and the answer is yes. They might be family guys now, but they are still badass.
I've always loved Cohen's character, but now we finally get to see how a precious, imaginative young boy turns into a man. He is a damn fine man and even better soldier. He's fought his battles in the military and in his personal life. The one woman he knows has always affected him couldn't be more off limits. If her father wouldn't kill him, her brother and his dad might just do the task themselves. With deployment just a few weeks away, Cohen has to make a decision to follow his heart or his mind when it comes to her. The battle lines may be drawn for him, but Dani doesn't believe in letting fate slip away.
Dani is everything you could have ever imagined as the child of Axel and Izzy. This girl is strong, independent, loves fiercely, and fights for what she wants. She may be Axel's little princess, but she about to claim her own crown. She's loved Cohen from the time she could walk and talk, but their age difference has driven a wedge between them. She's never been shy about her feelings for him, and when she gets the chance to finally break his walls down and take fate by the balls, she runs at it full force.
Cohen and Dani's story is much like their parent's stories in Corps Security. Harper mixes up romance, drama, thrills, and chills perfectly in her novels. She knows how to play on your heart strings and when to make you laugh out loud. From the first page to the very last, you are entertained from all facets of emotions. Having binge read every single book by Harper Sloan in just a single weekend, I have found a new favorite author and set of characters that will go with me from this moment on.
After reading the Corps Security Series, I could not wait to read the kids books. This book pulls out a lot of emotions but I laughed so hard at times I had tears coming down my face. I fell in love with Axel all over again. That man is something else when it comes to his daughter.
I fell in love with Dani and Cohen's story. Dani has loved Cohen since they were kids and has never been afraid to hide her feelings. Cohen on the other hand fights his attraction to Dani because of the age difference and of course the family pretty much meaning Axel!
There were times during this story that made my heart break, made me cry, laugh, and jump for joy. One of my favorite things about Harper's books is we always get the other characters. So this time we get the kids and their parents. It's a win/win! This story is not all hearts and flowers and there are many struggles along the way. I actually might love this book more than the parent's stories. Don't miss out on this amazing book and I can't wait for book 2!