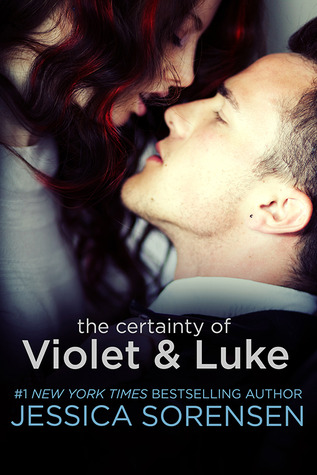 Publication Date: 9/16/2014
Series: The Coincidence Series # 5
Rating: 4.5 Stars


Violet Hayes's life is a mess. Between her stalker, Preston, refusing to leave her alone, her parents' case still being unsolved, and falling behind in school, she always feels on the verge of losing it. When some unexpected news comes her way, it's the final straw and she ends up doing something that almost costs her life. Thankfully, she survives and makes a promise to herself to put her life back together and to try and figure out exactly how she feels about Luke Price, the one person that's always there for her.
But as a recovering alcoholic and gambler, Luke has his own struggles to overcome. He's also fallen in love with Violet, but fears telling her the truth, that it will scare her away or worse, she won't reciprocate the feeling. Plus, there never seems to be a right time to say it, either the case, Preston, or life getting in the way.
Can the two of them ever get enough peace in their lives to conquer their fears and finally tell each other the truth about how they feel?
I've taken a different approach with this review. This time around, I wanted to include my thoughts before actually reading this book to see if my thoughts pre-read coincide with the outcome feelings. I know this may seem a bit abnormal for me, but I have had REALLY strong feelings about this book series as well as a deep connection with these characters. I want to do the final book for Violet and Luke justice.
Before Reading The Book:


This is it. The end of Luke and Violet's story arc. I'm not sure how I really feel about this as this has the potential to be the make it or break it kind of book for me. There pasts are so tragically intertwined that from the very beginning I have wondered whether they could move on from the past and find a future together. Here we go… Page 1
I'm simply speechless and floored. This book has surpassed my hopes and emotions for this character story arc. I knew their pasts would need to be resolved before they could truly move onto their future together, but just wow. This book is all about Luke supporting Violet in fighting her past and her coping mechanisms. Certainty is truly a book about not letting your past dictate your future happiness. That moving on into happiness is so much better than wallowing in regret and depression. Luke in the previous books has been just as messed up as Violet has been, but in this book, Luke is the stabilizing factor in Violet's life. He's her rock to lean on and protector from those responsible for murdering her parents, even if it's his own mother.
The ending isn't some spectacular out of left field kind of ending. No two characters in my opinion has deserved a slice of happiness more than Violet and Luke. Sorensen wraps up the story in way that as a reader you will feel both satisfied and happy for the characters, It may not be a fairy tale ending, but you will be able to feel the love and see the sparkles in the air after you close the last page.
This series will move into yet another conclusion with the release of Callie and Kayden's final story. Their love story is just as tragic as Violet and Luke's. I can only hope that Sorensen will leave these characters in peace, happiness and bliss as their story also ends.