Review: The King's Spinster Bride by Ruby Dixon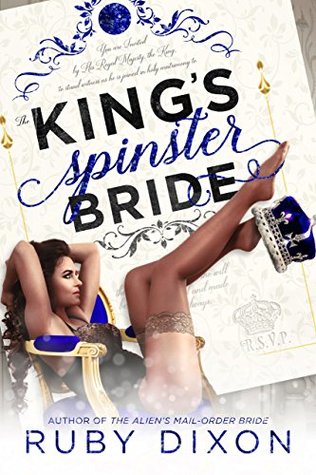 Publication Date: May 7th, 2018
Official Blurb:
Sixteen years ago, Princess Halla of Yshrem saved the life of an eight-year-old barbarian boy and watched her kingdom fall to ruin, all on the same day. Now, she is a forgotten spinster in a quiet temple, living her days out in solitude. The last of her line, she exists in the hope that she has been forgotten, for to be remembered by the enemy is to be certain death.
One person has not forgotten her. Mathior, now twenty-four, is the fierce warrior king of the Cyclopae. Yshrem is in turmoil and his advisors have a suggestion – kill the last remaining member of the royal line, and there will be no rivals for the throne.
Mathior has a different idea. He's loved Halla for sixteen long years, and it's time he claimed her as his wife. But a barbarian's wedding customs are unlike any other…
Review: I started out reading this series completely out of order, but oh well. They don't have to be read in order anyways. So, this is my very first book by Ruby Dixon, and let me just say I fell in love! I honestly don't know why I loved this story so much, but I did, and I couldn't put it down.
Sixteen years ago, Halla's whole world was turned upside down, but before the destruction, she saved the life of a young boy named Mathior. She has been in hiding all these years, but Mathior has never forgotten what Halla did for him. Now, it's his turn to take what belongs to him, and he has his sights set on Halla.
This book is so adorable from start to finish. I loved the story line, the chemistry, and just the pure love and passion between Halla and Mathior. I honestly don't know which one of them I loved the most. I definitely can't wait to read more books by RD for sure!