Review: Son of the Cursed Bear by T.S. Joyce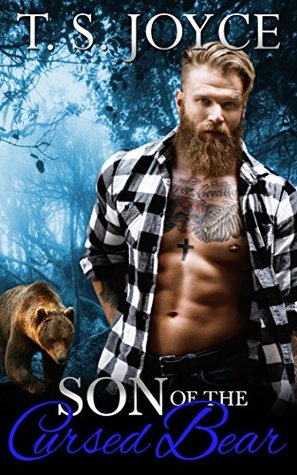 Publication Date: July 23rd, 2017
Series: Sons of Beasts #1
Rating: 5 Stars
Official Blurb:
****Don't miss the exciting first book in T. S. Joyce's brand new standalone series, Sons of Beasts****
Bounty Hunter, Nox Fuller, has been challenged to do the impossible. He's supposed to bring the Red Dragon in for a
year long
stint in shifter prison, but this job could be the death of him. His focus should be on the hunt, but when he meets a shy shifter named Nevada, he can't help but be distracted by the curvy beauty. He doesn't care that she has trouble speaking to people. He's different too. But as he finds out exactly what kind of shifter he's falling for, he realizes he's in way over his head. Stuck between a war with the local crew, and the fire-breathing Red Dragon, Nox has to tread very carefully. Too bad he's the least careful bear shifter in existence. It's not just his safety at risk as he hunts Vyr though. The closer he gets to the dragon, the more danger he and Nevada are both in.
Nevada Foxburg has a life full of secrets. One chance meeting with a feral grizzly shifter from Damon's Mountains puts not only her at risk, but her people too. They're doomed from the start, and she's supposed to pair up with a shifter like her, but Nox is wild, battle-hardened, funny, sexy-as-sin, and too interesting for his own good. He makes life
fun,
and keeps her on her toes. But he's got secrets too, and when she finds out he's in her hometown hunting the most dangerous creature on earth, she has to make a choice. Stay safe deep in the sanctuary of her crew, or risk her life to have Nox's back.
Content Warning: Explicit love scenes, naughty language, and piles of sexy shifter secrets. Intended for mature audiences.
Review: This was my first book by T.S. Joyce, but it will not be my last. I don't read shifter romances to often, but I was in the mood, and just thought okay I will give it a go. Best decision I ever made! I literally could not put this book down. It was so good, and I finished it in one sitting.
Nox Fuller is on the hunt for the Red Dragon. He is used to being alone, and he also doesn't like people very much, so this job should be done in no time. Get in and get out, easy peasy. Too bad that's not how things play out. What Nox wasn't expecting was Nevada Foxburg, and she turns his whole world upside down literally.
Nevada has always felt like an outsider because of her social anxiety. No one understands her, and no one seems to even care. She is just trying to make it to and from the grocery store without having a panic attack, but fate has other plans. Plans that include a smart-mouthed alpha male grizzly who Nevada can't seem to quit thinking about.
I really adored this book. It's the perfect mixture of funny, sweet, and sexy. I loved watching Nox's heart melt the closer he got to Nevada. I also loved finding out that Nox isn't the person you think he is either. It's actually very sweet. Nox and Nevada have amazing chemistry too, and I was so consumed with them from start to finish. So glad this book sets up for the next two, and I can't wait to read them.