Review: The Exception by Sandi Lynn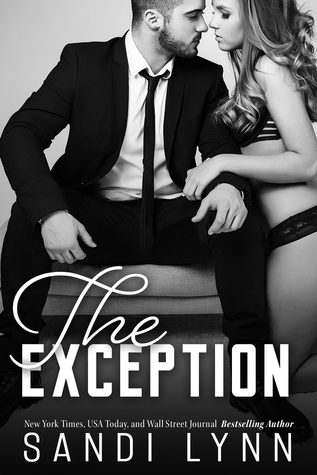 Publication Date: April 22nd, 2016
I grew up wealthy and was given everything my parents wanted me to have. After years of being molded into the perfect daughter, I played a role. I was only what they wanted me to be. My parents controlled everything. My life, my friends, my career, and even the man I was supposed to marry. When I stood in front of the mirror and looked at myself, the person looking back was a total stranger. Leaving my fiancé at the altar on my wedding day was the start of a journey I embarked on in search of the person that I truly was. I would disappear, vanish, and start a new life where, little by little, I would unmold the person everybody thought I was. I would live in a man-free zone for as long as my journey took me. NO EXCEPTIONS. Until I met a man with dark hair, a business suit, smoldering eyes, and a face like a god—Drew Westbrook.
I had everything I wanted in life. Money, looks, success, and beautiful women by my side at all times. Some of these women stayed around for a while and some left quickly. I was all for a relationship as long as she wasn't looking for a ring or wanting to hear the words "I do." I liked the way I lived my life and I was content. Plenty of friends, loving parents, and a successful billion-dollar company were all I needed to feel complete. NO EXCEPTIONS. Until the day a brown-haired, blue-eyed beauty sat down next to me on an airplane and, suddenly, everything that mattered to me didn't seem to matter anymore. She captivated me and I wanted her. All of her. But her journey didn't include me and I was left feeling something I'd never felt before: incomplete.
Review: First off, I am in LOVE with this cover. And second, I am in LOVE with Drew.
Jillian's whole entire life she has been told what to do. She is tired of never being able to make her own choices, which is why she leaves her fiancé at the alter and heads for her honeymoon alone. On the plane, she meets the wonderful Drew. At first, their meetings were innocent, but then something more begins to grow. After their wonderful night, Jillian leaves Drew heading to start her new life never expecting to see him again, until she bumps into him literally. Neither Drew nor Jillian has been able to stop thinking about each other since their trip, but both have different things going on in their life. Can they actually be the exception for each other?
This is such a cute and sweet read. I adored both Jillian and Drew. I also loved Jillian's sister too. There were a few sad moments in the book, but overall it's a very sweet love story.