Review: The Trouble with Twelfth Grave by Darynda Jones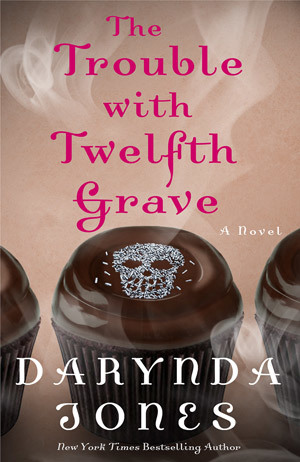 Publication Date: 10/31/2017
Series: Charley Davidson #1
Grim Reaper Charley Davidson is back in the twelfth installment of Darynda Jones' New York Times bestselling paranormal series.
Ever since Reyes escaped from a hell dimension in which Charley accidently trapped him, the son of Satan has been brimstone-bent on destroying the world his heavenly Brother created. His volatile tendencies have put Charley in a bit of a pickle. But that's not the only briny vegetable on her plate. While trying to domesticate the feral being that used to be her husband, she also has to deal with her everyday life of annoying all manner of beings—some corporeal, some not so much—as she struggles to right the wrongs of society. Only this time she's not uncovering a murder. This time she's covering one up.
Add to that her new occupation of keeping a startup PI venture—the indomitable mystery-solving team of Amber Kowalski and Quentin Rutherford—out of trouble and dealing with the Vatican's inquiries into her beloved daughter, and Charley is on the brink of throwing in the towel and becoming a professional shopper. Or possibly a live mannequin. But when someone starts attacking humans who are sensitive to the supernatural world, Charley knows it's time to let loose her razor sharp claws. Then again, her number one suspect is the dark entity she's loved for centuries. So the question becomes, can she tame the unruly beast before it destroys everything she's worked so hard to protect?
I have to admit that I held off on reading this book for several reasons. The first of many is that this book is the second to last book in the series. How is that even possible? Just one book left, and that's it for Charley, Reyes, and Beep. It just doesn't see fair that I'll have to kiss them all goodbye with Thirteenth Grave. This series has by far been one of my favorites of all time, and soon enough, it will be completed. Done. No more. That makes me sad just thinking about it. Another reason for holding off on Twelfth Grave was that fact the Eleventh Grave just was not what I was hoping it to be. Charley's humorous banner was on point, but I felt like that book was missing something from the previous ones. Even to this day, I haven't pinpointed it exactly.
Twelfth Grave is completely different in that aspect. The one-two punches of most of the Charley Davidson books were back in The Trouble With The Twelfth Grave. After agreeing to allow Reyes to go into the God Glass hell dimension in the last book, Charley is faced with something completely unnerving. A feral Farrow. That's right. Reyes and his demon side are running amuck in Charley-land and it's up to her to calm his tits. This book was by far one of my favorites of the series. While Charley has evolved so much over the last twelve books, she still keeps her humor about her, and the playful banter between her and demon Reyes is still there. But the emotional toll of what she may have do to in order to save him is still plan as day under all of that. This book has perfectly built the final plot line for the last book, and I, for one, will not be waiting a minute longer once it's beautiful grim reaper clad words are in my heads to read it.
With that being said, bring on the last Charley book. I'll ready to ride with her one more time.