Review: Invidious (The Marked #2) by Bianca Scardoni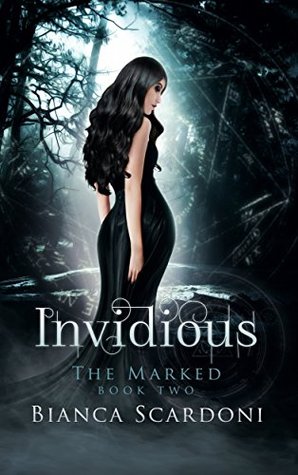 Publication Date: June 4th, 2016
The steep descent into Hell is always paved with good intentions.
My name is Jemma Blackburn, and I'm a Slayer. Finding out I wasn't human was only the beginning of my problems. My best-friend, Taylor, is still missing, and so is the Immortal Amulet, and it's my job alone to get them both back. I don't know who I can trust, and I'm still not sure I'm cut out for any of this, but I'm determined to figure it all out, or die trying.
As if that wasn't bad enough, there's a new enemy in town and they've come bearing gifts—an ancient prophesy that is going to blur the very lines between good and evil. And, apparently, my blood is tied to the center of it. I don't have all the answers yet, but I'm getting closer and closer to discovering the truth. The truth about my bloodlines, and about who I really am.
And, believe me when I say, it's going to change everything.
INVIDIOUS is the highly anticipated second installment in The Marked series, a fast-paced paranormal romance filled with betrayal, self-discovery, suspense, and a unique supernatural world that will leave you captivated and hungry for more.
Invidious was a solid five stars for me. Once again I couldn't stop once I started and wow, I really didn't see a lot of what happened in this one coming. I really don't know how Jemma keeps going after everything she's been through, and I just know things are going to keep coming. The one thing I love about Jemma is no matter what keeps coming her way, she's shown more than once how strong she is and she keeps on pushing forward. I also love how she wasn't instantly perfect. Jemma continues to grow with each book and I'm looking forward to seeing what will happen next!