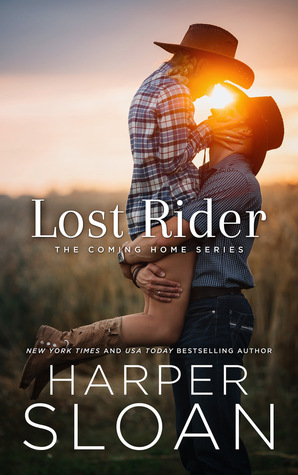 Publication Date: April 25, 2017
Official Blurb:
In
Lost Rider
, the first Western romance in
New York Times
and
USA TODAY
bestselling author Harper Sloan's Coming Home series, an injured rodeo star encounters an old flame but will she be just what he needs to get back in the saddle?
Maverick Austin Davis is forced to return home after a ten-year career as a rodeo star. After one too many head injuries, he's off the circuit and in the horse farming business, something he's never taken much of a shine to, but now that it's his late father's legacy, familial duty calls. How will Maverick find his way after the only dream he ever had for himself is over?
Enter Leighton Elizabeth James, an ugly duckling turned beauty from Maverick's childhood—his younger sister's best friend, to be exact, and someone whose heart he stomped all over when she confessed her crush to him ten years back. Now Leighton is back in Maverick's life, no longer the insecure, love-stricken teen—and Maverick can't help but take notice. Sparks fly between them, but will Leighton be able to open her heart to the one man who broke it all those years ago?
Written in the vein of Diana Palmer and Lindsay McKenna, this Texas-set series is filled with sizzle, heart, and plenty of cowboys!
Review: Second chance romance with a cowboy who is beautifully broken and moody, but beneath all the hurt lies a man with a heart of gold just waiting to escape.
Leighton James has been in love with Maverick Davis for as long as she can remember. He is her best friend's brother and has never really looked in her direction or so she thinks. But when Maverick leaves Leighton is crushed and completely heartbroken and she is left to pick up the pieces of the destruction Maverick left behind. Now after 10 long years, he is back and all those feelings Leighton thought she buried has now returned. How can she protect her heart from being shattered once again?
Maverick has his reasons for leaving home all those years ago. He had to escape the hell he was living in and his only regret is Leighton James. He knows he messed up, but at the time he had to do what was right for him. Now his career has came to a halt and it's time to head back to the once place he never wanted to return. When Maverick sees Leighton after all those years, he knows that she is the one for him. Can he prove himself and show Leighton that she has and always will be the love of his life?
I adored this sweet second chance romance. At times, this book was funny, sweet, sappy, sad and very emotional. I adored seeing the changes in Maverick and how he overcame things. Once he opened up, he was a totally sweetheart to Leighton, and of course the chemistry between these two is off the charts. I cannot wait for Quinn's book!