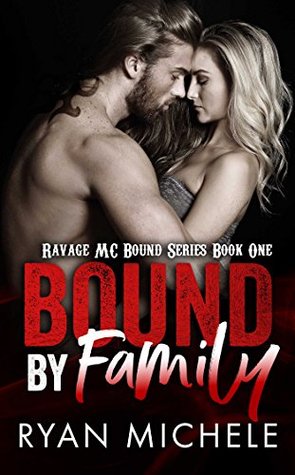 Publication Date: March 28, 2017
Series: Ravage MC Bound #1
Official Blurb:
Cooper Cruz knows what it means to be surrounded and bound by family. Loyalty, brotherhood, and protection are all learned, earned, and respected by him and the Ravage Motorcycle Club family he grew up in. At the same, he's a man, having fun and living the life he has always envisioned, until a trip to Florida changes everything.
Bristyl Daniels knows what it means to be smothered and bound by family. Bonds run deep with her father and all the members of the Sinister Sons Motorcycle Club she has grown up in. But now she's all woman and wishes they would see she isn't a little girl anymore. Then one phone call gives her a chance meeting with a hunk of a man she can't get off her mind.
When her favorite band comes to play at a motorcycle rally in her hometown, Bristyl decides it's worth the risk to sneak off for a little fun. When a situation gets heated, though, Cooper and the Ravage MC step in, setting off a chain of events, both good and bad in both their lives.
As the dust settles, Bristyl will have to come to some very hard decisions. Meanwhile, Cooper knows exactly what he wants. To hell with the consequences.
**
Bound by Family
(Ravage MC Bound Series #1) is a standalone full-length novel. You do not have to read the Ravage MC series to follow this book, but if you'd like to see where it all started, you really should. **
Review: To say I was excited to read Cooper's story is a complete understatement. I literally jumped up and down and squealed a bit. I really enjoyed the original series, but the spin off might just take the cake because Cooper Cruz is pure perfection.
Seeing Cooper all grown up reminds me so much of Cruz. He is loyal, dedicated to his family, alpha male through and through, and of course sexy as sin. When Cooper meets Bristyl his whole world is turned upside down, and he will do anything and everything to protect her.
Bristyl (adore her name so much) grew up in the club life. She lost her mother, but has had her dad and brothers there every step of the way. She has always been raised around the club, but never felt apart of it. Bristyl's whole world is turned upside down not only when she meets Cooper, but also when she is forced to make a huge decision that will change the rest of her life.
I cannot express how much I loved this book! I literally devoured it in one sitting. I fell head over heals in love with Cooper. He is totally swoon worthy. I also adore Bristyl. She is such a strong and loving girl. The chemistry between these two is off the charts. This book will definitely be one I will read over and over again. Can't wait for the next book!