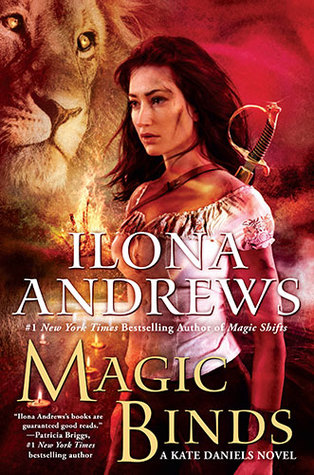 Publication Date: 9/20/2016
Mercenary Kate Daniels knows all too well that magic in post-Shift Atlanta is a dangerous business. But nothing she's faced could have prepared her for this…
Kate and the former Beast Lord Curran Lennart are finally making their relationship official. But there are some steep obstacles standing in the way of their walk to the altar…


Kate's father, Roland, has kidnapped the demigod Saiman and is slowly bleeding him dry in his never-ending bid for power. A Witch Oracle has predicted that if Kate marries the man she loves, Atlanta will burn and she will lose him forever. And the only person Kate can ask for help is long dead.
The odds are impossible. The future is grim. But Kate Daniels has never been one to play by the rules…
Magic Binds is simply spell-binding, humorous fun. Well, fun if you consider being slowly tortured and stalked by your own father for claiming a city that is. No? Well, I guess that's Kate Daniels kind of fun then after all. Magic Binds picked up nearly where the last book left off. Kate and Curran are still planning their nuptials with the help of a friend who will leave you laughing your ass off. Kate being forced to pick wedding items out in the midst of a brewing war was just the icing to the wedding cake of this great book.
The wedding planning aside, Kate is faced with an insurmountable odds when it comes to the war brewing with her father. A seer's visions bring her world crashing down and Kate scrambling to undue the fore-dooming damage. The vision is deadly, and unfortunately, I will have to leave it at that because it would be unfair for me to reveal such a shocking twist. Well, the ending's shocking twist is far more emotional, but this one holds its own. Kate is once again forced to risk her life to soothe her family drama, and let me tell, the skeletons in that family's closet would be enough to make you want to change your name and go off the grid. Her family makes the Kardashians look like the Waltons.
Magic Binds is the perfect book to start what I can only describe is the ending of the story arc with her father and the prophecies foretold in this book. I am very interested to see what the writing duo of Ilona Andrews comes up with in what I can only assume is the series close in future books. I hate knowing that the end is nearing for one of my favorite books series even if it hasn't been explicatively announced. Curran and Kate to this day still list in the top five of my favorite book couples with each of them topping the charts of my favorite male and female characters. I hope with future books that Kate and Curran get the send-off they deserve *shifty eyes to the authors*, and with that being said, I am greatly looking forward to what's to come in this series. Bring on more books!