Review: Shift Out of Luck by Ruby Dixon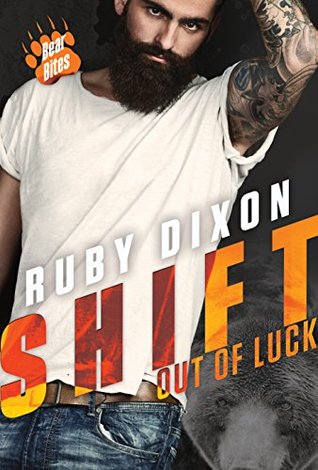 Publication Date: December 31, 2015

Official Blurb
:
There are few things that are off limits to the were-bears of Pine Falls, but humans are one of them. Which is a real pain, because I've had it bad for curvy Adelaide Laurent ever since she sashayed into town. The fact that she's forbidden fruit just makes my fantasies all the sweeter.

But when she signs up to go on a weekend camping trip with the town's biggest player, it's time for a bear to step in and claim his mate.

I don't care if it breaks the rules. She's mine, and it's time she knew it.
Review: This was my first book by Ruby and I loved every minute. I fell head over heels for Cole. He is a sweet cuddly bear who is completely smitten with the sexy as sin Adelaide. To bad she is human and completely off limits. How long will Cole pine for Adelaide before some else tries to lay claim to her?
Adelaide is sweet as can be. She runs her spa in town and stays mostly to herself. She only wishes she could catch the attention of Cole. She has tried for 3 years to get him to notice her. Now Adelaide has decided to show Cole she is woman enough for him, but he isn't having it. Will Adelaide freak out when she finds out Cole is a shifter or will they be mated for life?
This is a super cute and quick read. I have recently become addicted to shifter books and this one is perfect. It's sweet, loving, hot, and over-the-top all my favorites. I can't wait to read the next one.