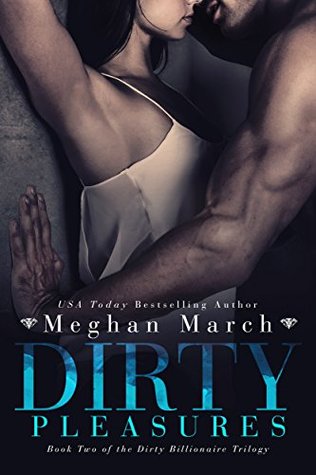 Publication Date: December 29, 2015
Series: The Dirty Billionaire Trilogy #3

Official Blurb:
I did it. I married a billionaire.

My reasons are my own, but the last thing I expected was to feel owned.

I may have taken vows, but I'm still determined to be me.

Now his rules are taking over my world, but I'm not the kind of girl to just obey.

There's only one problem: I might actually be falling for him…

I have no idea how this marriage is going to go, but holding onto a piece of myself while succumbing to his dirty pleasures is shaping up to be the ride of a lifetime.

Dirty Pleasures is the second book in The Dirty Billionaire Trilogy.Dirty Together, the conclusion of this filthy trilogy, will release on 1/12/2016.
Review: This book immediately picks up where book 1 left off and believe me after the way book 1 ended; I had to know where this one was going. Not only do we see a different side to both Holly and Creighton, but also I actually feel even more in love with these two. Their relationship actually starts to develop after immediately jumping into a whirlwind crazy marriage.
In this book, Holly isn't letting Creighton boss her around and put her career on the back burner. She stands up for what she wants and leaves him high and dry. One of the best parts of this book is actually seeing Creighton come to terms with the fact that he has actual feelings for Holly. He knows that she could be the one to actually make him want to do better. The groveling is one of my favorite parts as well. Meghan brought a whole lot of sexy to this book and it's HOT! If you haven't read book 1, then go right now! I am officially addicted and ready for book 3.