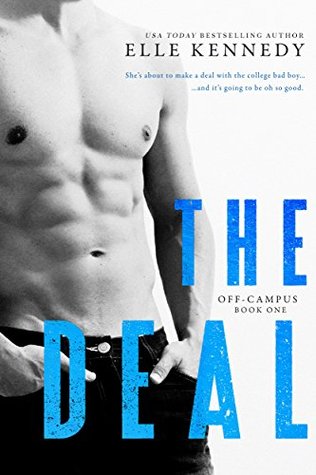 Publication Date: February 24, 2015
Series: Off- Campus Book 1

Official Blurb:
She's about to make a deal with the college bad boy...
Hannah Wells has finally found someone who turns her on. But while she might be confident in every other area of her life, she's carting around a full set of baggage when it comes to sex and seduction. If she wants to get her crush's attention, she'll have to step out of her comfort zone and make him take notice…even if it means tutoring the annoying, childish, cocky captain of the hockey team in exchange for a pretend date.
...and it's going to be oh so good.
All Garrett Graham has ever wanted is to play professional hockey after graduation, but his plummeting GPA is threatening everything he's worked so hard for. If helping a sarcastic brunette make another guy jealous will help him secure his position on the team, he's all for it. But when one unexpected kiss leads to the wildest sex of both their lives, it doesn't take long for Garrett to realize that pretend isn't going to cut it. Now he just has to convince Hannah that the man she wants looks a lot like him.
Review: This was my first book by Elle and I loved it so much. I didn't really know what to expect when I first met Garrett but he instantly stole my heart. I laughed out loud so many times throughout the story. The batter between these two was brilliant. I might have also swooned a few times too because Garrett has a dirty mouth and he sure knows how to use it.
Hannah is the quiet, shy type girl. I wouldn't call her nerdy but she isn't the star of the school either. She tends to stick with what she knows and avoids parties like the plague. Hannah has a crush on a football player but is to shy to tell him, but little does Hannah know Garrett Graham is about to change her whole entire life, and not in a way she expects.
Ahhhh Garrett!! When I first met Garrett I thought of him as the school super star and nothing but a down right manwhore until I got to know him, and then I was hooked. Anything he said made my heart skip a beat. At first, Garrett just needs Hannah to help him pass a class, but soon he realizes Hannah is actually pretty awesome and they have a lot in common. Soon Garrett's feelings start changing, but he needs Hannah to see he is the guy for her.
I was pulling for Garrett!! I loved watching not only Hannah grow into her self but Garrett as well. Both of Garrett and Hannah have parts of their past they aren't proud of but someone how always managed to be there for each other. This book is funny at times and serious at times, it's a perfect mix. I honestly loved this book hard and I can't wait to start book 2!