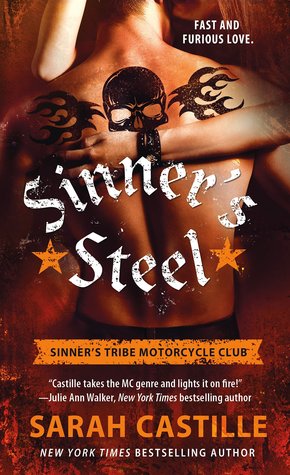 Publication Date: 10/6/2015
Series: Sinner's Tribe Motorcycle Club #3
Official Blurb:
HE'S HELL ON WHEELS.
Tall, dark, and dangerously handsome, Zane "Tracker" Colter is the strong, silent type of tattooed muscle biker who drives women wild. But as a master of strategy for the outlaw MC club, Sinner's Tribe, he doesn't have time to play around with groupies and biker chicks-especially when he can't stop thinking about Evie, the girl who got away...
SHE'S PLAYING WITH FIRE.
Evie's been in love with Zane ever since they were children-until he broke her heart and disappeared. Now he's back in her life, bigger and badder than ever. Zane is stunned by how beautiful and confident Evie's become, using her artistic talent to customize motorcycles. He wants her so bad, he'd ride through fire to win her back. There's one problem: Evie is dating his deadliest rival-the leader of the Black Jacks-and if Evie and Zane hook up, there'll be hell to pay...
Young love never dies. It never goes away and it sure as hell doesn't fade into the passing years. Sinner's Steel is painfully beautiful. Zane and Evie's lives have skewed far from their childhood friendship. Meeting up 9 years after Zane's disappearance, Evie isn't the nice girl she once was. She has a secret and a deadly one at that. She's not exactly free to give her heart away willingly to Zane and her current man isn't exactly a friend to the club. As much as they both fight the attraction that has been in their hearts for each other since they were kids, they have to think about the bigger picture. They can fight all they want, but fate has other things in mind.
Sinner's Steel is a gritty romantic love story of epic proportions. It will rev up your heart and steal away your heart and soul. The action is perfectly balanced with the romance side to the story so you will be reading on the edge of your seat. Castille has a knack for writing MC Romance that I hope will continue into additional novels for this series!