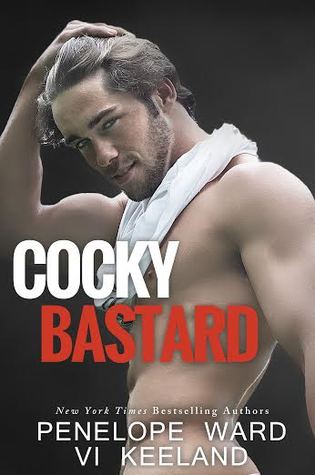 Publication Date: August 15, 2015

Official Blurb:

From

New York Times

Bestselling authors

Vi Keeland

and

Penelope Ward

, comes a sexy new standalone novel.
He was someone who belonged in my wildest fantasies instead of a rest stop in the middle of Nebraska.
A sexy, cocky, Australian named Chance was the last person I expected to run into on my cross-country drive.
When my car broke down, we made a deal. Next thing I knew, we were traveling together, spending sexually-tense nights in hotels and taking unplanned detours.
My ordinary road trip turned into the adventure of a lifetime. It was all fun and games until things got intense.
I wanted him, but Chance wouldn't make a move. I thought he wanted me too, but something was holding him back.
I wasn't supposed to fall for the cocky bastard, especially when I knew we'd be going our separate ways.
All good things must come to an end, right?
Except our ending was one I didn't see coming.
Review: I was super excited to read this book by these 2 amazing authors and let me tell you they did not disappoint at all. I was literally sucked in right from the beginning. Who knew a bobble head would be the start to an amazing relationship. The first half of the book is told through Aubrey's POV and the second half is told through Chance's POV. So we get a side to both when things get crazy.
Aubrey is trying to start her life over. After a cheating ex rocks her world she decides to pack up everything she owns and moves across country. Stopping at a rest stop, she never expects to meet Chance aka CB. She thinks he is arrogant right from the start but then for a split second he shows a different side. When her car needs help, Chance is the one that is there to the rescue.
Let's go into Chance. OMG in love from the first moment he opened his mouth. He is cocky and arrogant but he is also Australian and sexy as hell!!! AHH not even going to lie, I watched so many videos of Australian men talking when I finished because I couldn't get enough. Chance was a mystery to me and I knew he was holding back and hiding something but I never expected it to be what it is. I can't do spoilers so READ!!!!
The first half of the book is a light hearted and funny but the second part there for a bit is emotional and it broke my heart quite a few times. I wanted to crawl through my kindle and scream NOOO what are you doing!!!!! Yes I know things happened and life got in the way but I was just crossing my fingers and beginning for an HEA the whole time. I honestly loved this book so much and wouldn't mind re-reading it over and over. Don't miss out because once you meet Chance you will forever be hooked and you might have to change panties a few times because he is a Cocky Bastard but I love him forever!