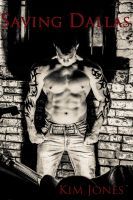 Publication Date: January 19, 2014

Official Blurb:

When the self-righteous, millionaire bachelorette, Dallas Knox walks into Hattiesburg's largest night club she is looking for one thing – a one night stand with no strings attached. What she doesn't expect is to find herself at the mercy of the Devil's Renegades Motorcycle Club and their President-Luke Carmical.
Luke is dangerous, sexy, and dark. The life he lives is far different from the privileged life Dallas is accustomed to.
Can she accept the lifestyle of an MC?
Can she handle the domineering nature of Luke?
Or is it too late to save Dallas from the path she has chosen…
Review: This was my first book by Kim and I LOVED it!! When the book starts, I wanted to smack Dallas. She is rich little spoiled brat who thinks she is better than everyone. Even when she is in trouble and Luke helps her, she is still ungrateful. At first I thought I will never like this girl and she is in for a rude awakening. But the more the book goes the better she gets and the more I grew to love her character. Now yes she is still a little much at times but can't say I blame her.
Luke was super sweet right from the very beginning. He helped Dallas without any question even though she was being a brat to him most of the time. Every time Dallas would push him away, he would come right back no questions. Now there is also a very different side to Luke. Of course his life is in the MC and he has to keep up his reputation but he is also very controlling and a total alpha.
There are a lot of twists and turns in this book I never saw coming. I actually was glad when Dallas started opening up to Red and Lindsey. I also love how she started to change with Luke and realize not everyone is like she originally thought. Now it's hard to write this review because I don't want to do spoilers. But I have TONS and TONS of questions left. Some of the things we find out in this book left me hanging like NOOOO. There are things that happen that I was like WHAT is going on?!?!? I can't wait to go into book 2 and find out answers. I also LOVE how this book is set in Mississippi. I live here and it was great to actually relate to many places Kim talked about! Now onto book 2!!