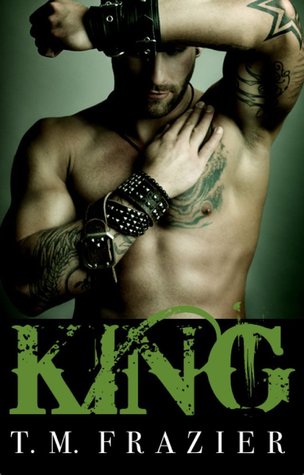 Publication Date: June 15, 2015
Rating: 5 Stars
Official Blurb:
Homeless. Hungry. Desperate.
Doe has no memories of who she is or where she comes from.
A notorious career criminal just released from prison, King is someone you don't want to cross unless you're prepared to pay him back in blood, sweat, sex or a combination of all three.
King's future hangs in the balance. Doe's is written in her past. When they come crashing together, they will have to learn that sometimes in order to hold on, you have to first let go.
King is the first book in a two part series. Tyrant is the name of the second book due out August 2015.
This was my first book by T.M. and I literally read it in one setting and could not put it down. This isn't your typical hearts and flowers kind of book. It's raw, gritty, dirty and dark all rolled into one.
Doe doesn't remember who she is or where she came from. All she remembers is what's now in the present and the things she has to do in order to survive. Deciding to make a plan to change her life and to survive, Doe runs face to face with King and her life quickly takes a turn in a different direction.
King is a total hot head, live in the moment, complete harda** and alpha kind of guy. I had such a love hate relationship with King. King is not a one-woman type of guy or at least he wasn't until he met PUP aka Doe. There were times I could see his sweet side and other times I was thinking KING what are you doing?!!!?? There is so many times throughout this book that made my mouth hang open. I was also in complete shock a few times too. And please be prepared because that ending will definitely leave you wanting more. I can't wait to get all the answers in book 2 so I will sit patiently and wait on book 2… Ok not really my head will be spinning until I get book 2.

Don't miss out this
book is amazing!!