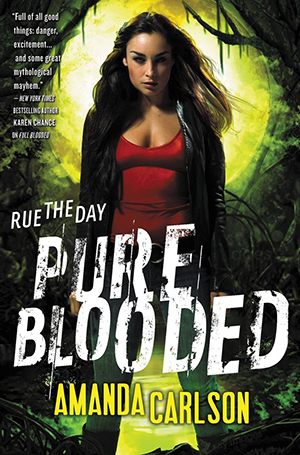 Review: Pure Blooded by Amanda Carlson
Publication Date: 6/16/2015
Series: Jessica McClain #5
Jessica arrives back from the Underworld to find her father embroiled in a battle against the Made wolves. She and her crew drop everything to join them.

Once she arrives, the threat is after her. Jessica is lured into danger when her adversary takes something precious from her. With help from an unlikely source, Jessica goes up against her creator in a battle that will decide the path of everyone involved. She must war against a new set of foes, ones who could not only steal her power, but could take her soul as well.
I'll admit right off the bat, I was really unhinged by the way this book ended. The abruptness to the ending really took me off guard and left me wondering if they ARC I received from Netgalley was incomplete. The story settles into a climatic ending and BAM! The End?! No freaking way! Where's the rest of it? I had to deduct a star purely for the ending. I just felt like there was something that left me wanting at the end.
Now, the story itself was great! It was action packed. Carlson pulled out all the stops on Pure Blooded because of the content she needed to cover in order to drive the story further. Jess and Rourke have a lot on their plate in this book and the world only becomes more complicated as the story continues. My only gripe is that I felt like this book was all action and less about Jess and Rourke's relationship. Sure they are mated now, but that doesn't mean the romance is gone. To sum my review up, I'll say that Pure Blooded hit right in the middle of the road for me. It has its high and lows, but is still a great story for fans of the series.