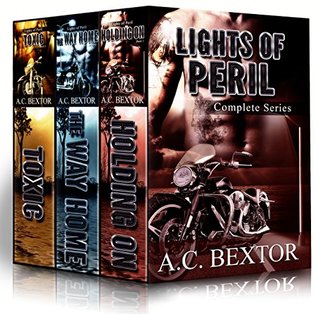 Holding On
How does a person decide if their own life is worth sacrificing to save another?
Shame holds onto a past that haunts him. Damaged by the parents that should have taught him unconditional love; they imprisoned him with violence and disregard. Even now, Shame struggles to find both the independence and love he deserves.
Knowing the blood that runs through him is stained merely by reputation, Hem seeks acceptance while he searches for ways to redeem himself in the eyes of those that have judged him his entire life.
Together the two have committed themselves to one purpose; protecting those they love the most.
Mace Cash is Hem's younger sister. Although they share the same mother, Mace's father despises Hem and his position within the family.
Sadey Lyons has loved Hem all of her life. Swearing to save herself for him, she's determined to wait for him for as long as it takes; wanting only for him to see her as the woman she has become and not the little girl he's always cherished.
When Hem and Shame meet Doc, the President of Lights of Peril Motorcycle Club, their lives take a dramatic turn. Finally escaping from a past that has controlled them, they find themselves living free.
But neither of them have known peace for long...
This is their story of love, loyalty, and heartbreak.
The Way Home
Where do you begin to put back the pieces of a shattered heart?
"I'm letting you go today, it's time."
Finally, Sadey is ready to say goodbye to the only man she's ever loved. With the help of Shame and Mace she's learning to breathe on her own again; one day at a time.
Her hopes are high and her world is finally coming into focus.
Until someone from her past comes back to help her heal, bringing with him more heartbreak and confusion than she could have ever believed possible.
Ace loves her. For six months, he's watched her suffer from a distance. Knowing it isn't his place to see her through this, but no matter the risk, he can't stay away.
"Sadey, I've missed you, okay? I've thought about you. I've missed being here. Do you understand that? I've missed being around you, touching you, holding you, and laughing with you. I missed you before I even left town that night. You chose Hem. Not that it was any kind of competition, but you were with Hem. I was never even given the consideration."
Emotions are high as further truths of betrayal are exposed, leaving everyone to pick up the pieces once again.
Toxic
Told through Shame's point of view, the final installment of the Lights of Peril MC takes place on the 'implied' wedding day.
Shame is plagued with doubts surrounding his love for Mace. He loves her. He's loved her since she was five years old, but feels he doesn't deserve her. This uncertainty is surfacing while struggling to forget the loss of his tragic childhood.
"What if the trigger has already been set and I'm going to wake up one day and realize I'm my parent's son in their way of evil? The thought sickens me. I'm no good without Mace. I never have been. She's the one person in my life I would refuse to live without. If I ever treated her and Ryder like my father treated my mother and I, it would make for an easy decision. I would kill myself."
Shame's childhood wasn't filled with happiness and love. It was heart wrenching, and abusive. Used by his father and resented by his mother, a young Neil struggles through his days waiting for an escape; a savior.
"As he seethes his anger onto me I feel the spit from his words land on my face and in it I smell his whiskey and coke coming down like rain over my blissful day. I'm working for them now. I'm nine and I've just been interviewed and hired for my very first job… running drugs."
But once meeting Doc, Lynda, Mace, Hem, and Sadey - his life changes from desolate to hopeful.
This series seriously sucked me in. I originally intended to read just the first one during our night before the Cleveland Author Event, but what occurred was an all-night binge read extravaganza. I literally couldn't put this series down. Shame and Hem are delicious alpha male bikers. They are bad to the bone and sinfully sexy even though at times they need a good kick in the pants from their woman from time to time. The intensity of this book series is off the charts. The first two books literally ripped my heart out from time to time. I found myself a crying mess at the end of book 1. My husband even woke up to make sure I was okay as I ugly cried my way into book 2. This MC series is gritty, exciting, and romantically hot as hell. Shame stole my heart and soaked my panties while Hem frustrated me and turned me on all at the same time. Bextor's characters are insanely genius. I loved this series and can't wait to dive into the next one by A.C. Bextor.