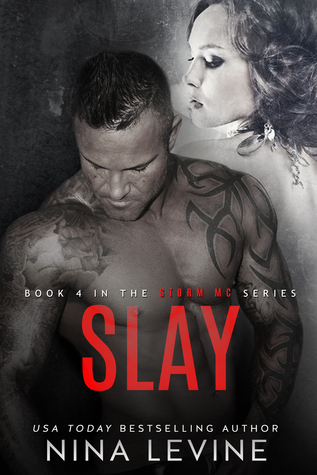 Publication Date: 11/21/2014
Series: Storm MC #4
Rating: 4.5 Stars

Official Blurb:
BLOOD WILL BE SHED...
The ghosts of Donovan "Blade" Brookes' life are closing in on him.
Hardened by an abusive childhood and haunted by the murder of his fiancé, Blade struggles against the dark forces threatening to consume him. When he helps Layla Reed in her hour of need, he has no idea she will be the light to his darkness. As they spend more time together, he is powerless to fight his desire for her. Powerless to fight his need for her. However, as his feelings deepen, he pushes her away, reluctant to drag her into his world. With enemies coming at him from all directions, Storm MC needing his help to fight off a rival, and his father still causing him grief, Blade needs the love of a good woman now more than ever. Can Layla push Blade to the edge and get him to admit to both of them what he wants? Or will the darkness pull him under once and for all?
Yet again I am blown away about how quickly this series has turned around for me. Revive literally took this series from 0 to 60 in just one book. I am happy to say that Slay has only added to the momentum that the series has picked up. From Blade's introduction I knew that his book was going to be epic in the sense of his dark backstory and his redemption.
Blade has done things that no one would ever dream of and he'll do it again if his kind of pain is needed. Blade beginning in life was so devoid of fatherly love and struggling in terms of his mother's ability to take care of him that you knew from the very beginning he was destined to be living on the rougher side of the tracks. He's the bastard son of the Storm MC club president and that secret has been hidden for almost the entirety of his life. He knows the cruelty that lives in his father and counts down the day until he can seek his revenge for his mother and for that of the life of his beloved fiancé. Her gruesome murder replays ever night in his nightmares. He'll never love anyone again as much as he loved her and his inner demons will control his actions forever. Yet, a sparkly ray of sunshine comes into his life unexpectedly that he doesn't know whether to posses her or send her running as far away from him as she can. His loyalty to his dead fiancé will test him his resolve to never love again, but when Layla warms him from the inside out, how can he stay away?
Yet, Layla's sunshine comes from a past grey and cloudy past. Her business is croak that leaves her not only up to her eyes in debt with their bar, but in the crosshairs of dark and deadly debt collectors. Just when she thinks she's about to lose everything a dark and mysterious stranger comes to scare of the men terrorizing her. When his simple moment of kindness sends these dangerous men packing, Layla doesn't know whether to kiss him in gratitude or cower in fear of his dark presence. She knows his past has messed up his emotional feelings towards women, but she's not going to give up on someone who not only needs healing hands on his heart, but could help her heal as well.
Slay is again a surprising twist in this series for me. I knew Blade's story would be a little bit more on the raw and gritty side in terms of his particular set of skills when it comes to dealing with issues, but it was almost refreshing to feel and see his sense of loyalty to a woman who is long gone. His heart seems to melt as the story goes on and he learns what it means to love someone unconditionally again. Another intriguing part of Slay is the backstory of club politics and how it plays into Blade's relationships with both Velvet and his mother. The shock value ended left me stunned and in turn anxiously awaiting more from Nina's Storm MC series. I cannot wait to see how wrong about Griff I more than likely am when Illusive hits the shelves.