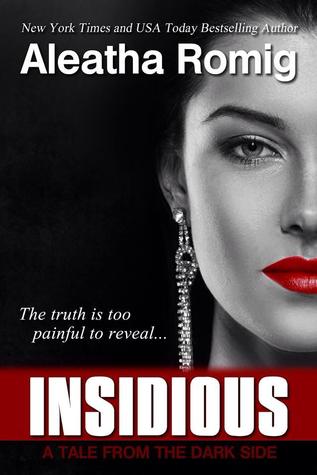 Publication Date: 10/21/2014
Series: Tales from the Dark Side #1
Rating: 5 Stars

Official Blurb:
Dark desires…Deadly secrets…Devious deceptions…Nothing is exactly as it seems in INSIDIOUS, the new erotic thriller from New York Times and USA Today bestselling author Aleatha Romig.
When a powerful man is willing to risk everything for his own satisfaction, only one woman can beat him at his own game: his wife. Or so she thinks…
"Let's start with you calling me Stewart. Formalities seem unnecessary."
Stewart Harrington is rich, gorgeous, and one of the most powerful men in Miami. He always gets what he wants. Anything is available to him for the right price.
Even me.
Being the wife of a mogul comes with all the perks, but being Mrs. Stewart Harrington comes with a few special requirements. I've learned to keep a part of myself locked away as my husband watches me submit to his needs. But the more he demands of me, the more beguiled he becomes and that's to my advantage. So I keep fulfilling his fantasies and following his rules because he doesn't know that what he's playing is really my game. And winning is everything, right?
Insidious is a stand-alone novel and the first Tales from the Dark Side title. Due to the dark and explicit nature of this book, it is recommended for mature audiences only.
I finished Insidious in the wee hours of the morning today and now several hours later I'm not sure where I could even begin to write this review. Can I summarize my feelings in just a few words? Because if that's the case the only thing I can say about this book is holy shit. I'm not new to the romantic thriller genre by any means. Yet, what caught me off guard is that sheer fact that this book left me breathless. It was like reading one of the best thriller movies on paper. The whole premise of the story is so dark and twisted that it still gives me chills thinking about it.
Victoria has survived 10 years of her husband's dark and deadly bedroom pleasures. His fucked up fantasies alone are enough to make your skin crawl. Her husband, Stewart, seems like a somewhat decent guy at first, but as soon as she says I do, she learns just how sadistic this man really can be. I found at times my stomach rolling at the things he made his young wife do in order for him to get his rocks off. Yet, as the story progresses Victoria discovers that in order to survive she has to learn the art of deception and with that comes sudden realization knowledge about how the contract exactly came into play.
To simply call this book a dark and twisted journey into the fucked up minds of sadistic people is like calling Insidious a my little pony fun time romp. Insidious plays on your emotional connection with Victoria in a way that I never thought was possible in a book. Aleatha will keep you on your toes to literally the last word in this story. I had to go back and re-read the last chapter to make sure that I really did read that part right. Insidious is one of the most emotionally and physically stimulating books I've ever read. Prepare yourself readers, you might just need a drink after reading this book!