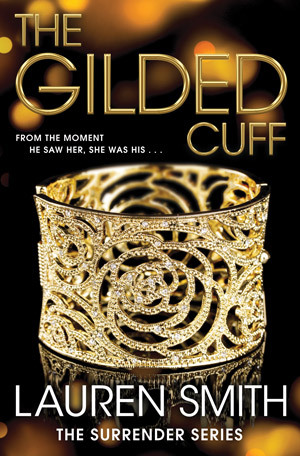 Publication Date: 2/10/2015

Official Blurb:
Every passion has its price . . .

Journalist Sophie Ryder has been following Emery Lockwood's story since she was a little girl. There has always been something in his haunted eyes that she couldn't resist and now, when she's certain he holds the key to solving a string of kidnappings, she'll do anything to speak to him. Even if it means venturing deep into the seductive world of the Gilded Cuff, a luxurious BDSM club on Long Island's Gold Coast and Emery's personal playground.

From the moment Sophie enters his shadowy, sensual domain, Emery Lockwood knows this tantalizing new little sub was meant to belong to him. However, Sophie wants more from Emery than just pleasure . . . she wants his past. And that is something he isn't willing to give—no matter who is asking. But every moment he spends with Sophie, Emery feels his control slipping and he knows it's only a matter of time before he surrenders to her heart, body, and soul.
Holy Mother of All that is Literary!!! This book was AMAZING!! If you've read the blurb, I know what you are probably thinking and that's because I did as well. This isn't just a re-telling of FSOG with new characters and new location. This book is FAR better!!! This book has some serious punch with a twisted plot line that leaves your heart and mind racing. Smith as delivered on a new tale involving the BDSM lifestyle, but unlike most books this book puts it somewhat in the background of the story. Sure, The Gilded Cuff is packed with deliciously passionate and kinky sex, but that's not where the plot primarily lands. I feel like Smith really took the time to explain how the lifestyle truly works and how a newcomer fight feel being exposed to it the very first time. It isn't the dark and twisted world over novels have showcased the beauty that can lie within it.
One of the best plot points of this book is the world development. Having never visited the East Coast, I felt as if I needed to pack up the car and drive there as soon as I put the book down. Smith has a talent for describing the rich world of old money and mansions that liter that part of the world. The houses that grace that area are some of the most beautiful mansions and castles of the world. Smith's descriptions of Emery's old family mansion make you feel like you are taking in all its splendor and horrors just as Sophie does.
The story itself mesmerized me. Without giving too much away, The Gilded Cuff explores the issues behind deception and betrayal, family tragedy, childhood trauma, and PTSD. Smith weaves the each and every theme of this book in such a complex web that you become enraptured in the story. The open ended conclusion of this story and the brief introduction to the next book in this series only adds fuel to the fire that is the Surrender Series.