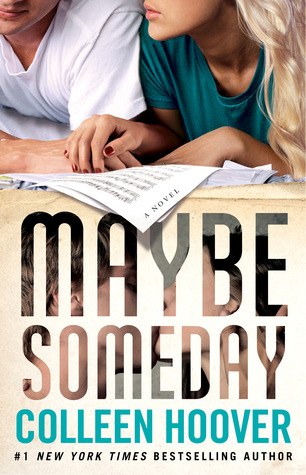 Publication Date: March 18, 2014
Series and Book Number: 1
Rating: 5 Stars

Official Blurb:
From #1 New York Times bestselling author Colleen Hoover, a passionate tale of friendship, betrayal, and romance.
At twenty-two years old, Sydney has a great life: She's in college, working a steady job, in love with her wonderful boyfriend, Hunter, and rooming with her best friend, Tori. But everything changes when she discovers Hunter's cheating on her--and she is left trying to decide what to do next.
Sydney becomes captivated by Ridge, her mysterious neighbor. She can't take her eyes off him or stop listening to the passionate way he plays his guitar every evening out on his balcony. And there's something about Sydney that Ridge can't ignore, either. When their inevitable encounter happens, they soon find themselves needing each other in more ways than one...
Original music created for Maybe Someday by musician Griffin Peterson can be accessed through the website listed in the ebook and paperback.
From the author of the New York Times bestsellers Slammed, Point of Retreat, Hopeless, This Girl, and Losing Hope, Maybe Someday is destined to be another bestseller and long-lasting fan favorite.
This is by far my favorite book from Colleen Hoover so far. I had so many different emotions while reading this book and yet I could not put it down. When we first meet Sydney she is living with her best friend and has her loving boyfriend Hunter of 2 years. Every night Sydney goes out onto her balcony to listen to her neighbor play guitar. Not only has Sydney noticed Ridge but Ridge has also noticed Sydney. These two form a friendship and then Ridge reveals that Hunter is cheating on Sydney with her best friend. Her whole world is torn apart and she is left with no place to go until Ridge offers her a room. This is where the book takes a turn because I hated the boyfriend and best friend and I loved the new roommates. There were so many times in this book I laughed hard at some of their pranks they all played on each other. When Sydney starts helping Ridge write music their relationship starts to change. Oh but the problems that lie in the way of these two being together. This book really had me guessing who should be with who but also pulling for Sydney and Ridge to get their HEA. I like how this book is told from both Sydney and Ridge. I don't normally like to many books with music but this book was absolutely beautiful! This book is a little different than Colleen's other books and I loved it. Looking forward to more books from Colleen!