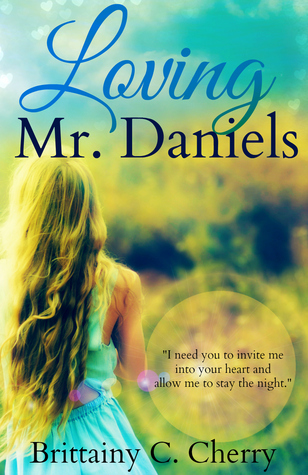 To Whom it May Concern,
It was easy to call us forbidden and harder to call us soulmates. Yet I believed we were both. Forbidden soulmates.
When I arrived to Edgewood, Wisconsin I didn't plan to find him. I didn't plan to stumble into Joe's bar and have Daniel's music stir up my emotions. I had no clue that his voice would make my hurts forget their own sorrow. I had no idea that my happiness would remember its own bliss.
When I started senior year at my new school, I wasn't prepared to call him Mr. Daniels, but sometimes life happens at the wrong time for all the right reasons.
Our love story wasn't only about the physical connection.
It was about family. It was about loss. It was about being alive. It was silly. It was painful. It was mourning. It was laughter.
It was ours.
And for those reasons alone, I would never apologize for loving Mr. Daniels.
-Ashlyn Jennings
Be prepared to have a whole box of tissues for this book. I haven't cried so much during a book in a very long time. Ashlyn is suffering from the loss of her twin sister Gabby and her mother wants her to move with her father. Ashlyn really doesn't know her father because he wasn't around much when she was younger so she calls him Henry. When Ashlyn across the world to live with Henry she is surprised that he already has a family living with them. It is very hard for Ashlyn to adjust to her new life. When arriving in town she meets a guy at the train station and he invites her to a bar to see his band. When Ashlyn goes to the bar her whole life changes after she meets Daniel. Daniel is very sweet and romantic and he has also suffered from horrible losses in his life. When Ashlyn starts school the following Monday she runs face to face with Mr. Daniels. This is where the story starts to pick up with both Daniel and Ash trying to stay away from each other. This story has a lot of sadness but it also helps both Ashlyn and Daniel learn to love and move on with each other. I like how this book is told from both Ashlyn and Mr. Daniels. But don't forget to have tissues ready because this book will have your emotions all over the place.