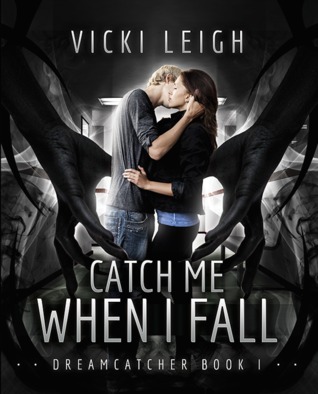 Publication Date: 10/23/2014

Official Blurb:
Recruited at his death to be a Protector of the Night, seventeen-year-old Daniel Graham has spent two-hundred years fighting Nightmares and guarding humans from the clawed, red-eyed creatures that feed off people's fears. Each night, he risks his eternal life, having given up his chance at an afterlife when he chose to become a Protector. That doesn't stop a burnt-out Daniel from risking daring maneuvers during each battle. He's become one of the best, but he wants nothing more than to stop.
Then he's given an assignment to watch over sixteen-year-old Kayla Bartlett, a clinically depressed patient in a psychiatric ward. Nightmares love a human with a tortured past. Yet, when they take a deep interest in her, appearing in unprecedented numbers, the job becomes more dangerous than any Daniel's ever experienced. He fights ruthlessly to keep the Nightmares from overwhelming his team and Kayla. Soon, Daniel finds himself watching over Kayla during the day, drawn to why she's different, and what it is about her that attracts the Nightmares. And him.
A vicious attack on Kayla forces Daniel to break the first Law and reveal his identity. Driven by his growing feelings for her, he whisks her away to Rome where others like him can keep her safe. Under their roof, the Protectors discover what Kayla is and why someone who can manipulate Nightmares has her in his sights. But before they can make a move, the Protectors are betrayed and Kayla is kidnapped. Daniel will stop at nothing to save her. Even if it means giving up his immortality.
Daniel's a long time Dreamcatcher. He's the best and damn good at banishing the nightmares from his charges. He's never had a fall from grace when it comes to his charges. Yet, from first sight Kayla become his kryptonite. He sees her pretty face and can't help but feel for her and her tragic back story. He knows something isn't right with Kayla's situation and he'll break all the rules to keep her safe. Is Kayla worth losing his immortality or is this just a fleeting romantic moment in his long life?
Kayla herself has faced a serious road of trials and tribulations. She roasted her mom's boyfriend like a marshmallow at a campfire after he tried to sexually assault her. This landed her into the loony bin. Kayla isn't crazy, but to stay away from her awful memories the psych ward may just be the safest place for her. That is until the nightmares get worse and a man appears out of thin air claiming to be her assigned protector. Maybe she really is losing her mind.
What's not to love about this story? Daniel's personality will radiate within your heart and soul. You'll find as you read this book that Kayla's situation isn't as clear cut as it seems to both her and Daniel. This story is unlike any other that I have read. The very premise for this story is unique and engaging. My only compliant is that I wish Kayla as a heroine with some serious fire power would have been more of a tough as nails heroine than a wilting flower with situational violent tendencies. All and all a great beginning to a new series and a hell of a good read.