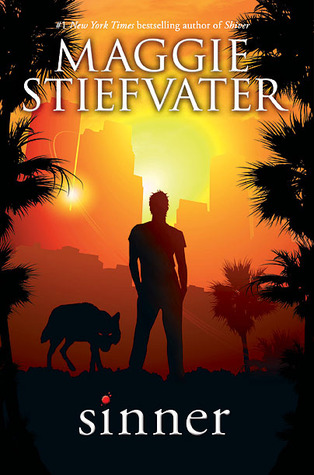 Series:

The Wolves of Mercy Falls #4
Official Blurb:

A standalone companion book to the internationally bestselling Shiver Trilogy.
Sinner follows Cole St. Clair, a pivotal character from the #1 New York Times bestselling Shiver Trilogy. Everybody thinks they know Cole's story. Stardom. Addiction. Downfall. Disappearance. But only a few people know Cole's darkest secret -- his ability to shift into a wolf. One of these people is Isabel. At one point, they may have even loved each other. But that feels like a lifetime ago. Now Cole is back. Back in the spotlight. Back in the danger zone. Back in Isabel's life. Can this sinner be saved?
A marvelous story filled with beautifully developed characters and setting. Cole's werewolf-y arrogance and charm and Isabel's witty retorts and sarcasm continue to delight. Isabel's personality really resonates for me because she has this since of being someone you could know out in non-literary reality. Her "doesn't take shit off of anyone attitude" really draws me in as I share that aspect of her personality. She tells it like it is and doesn't care what others think about her opinions.
Together, Cole and Isabel's relationship could be described as Fire and Ice. Trust is a huge issue for their relationship. What they lack in trust, they make up for in chemistry. Sinner itself is a redemption story in the fact that the plot is based around Cole facing the consequences of his past decisions while trying to maintain his relationship with Isabel. He knows in order to keep Isabel in his life he must change for the better. The skeletons in his closet must be dealt with before he can have a happy relationship with her. While written in the YA Paranormal genre, I felt as if the paranormal aspects of this story were on the back burner compared the other books in the series.