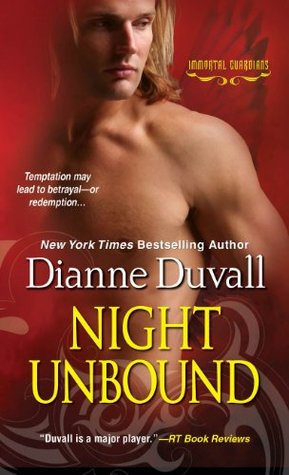 Dianne Duvall's Immortal Guardians protect humanity from unspeakable horrors--but their hearts are as fragile as any mortal's. . .
For centuries, Lisette d'Alençon has been a warrior against the dark. She fights alongside her brothers and comrades. But when the dreams start coming, she can't bear to confess them to the Immortal Guardians' command. Dreams of a dark-haired man with soft eyes and brutal wounds, a man her heart aches for--and a man she knows has been declared a traitor.
Zach is an exile, a loner. He won't defend himself against false accusations or grovel to those who should have faith in him. But he'll damn sure defend the woman who kept him sane against a plague of super-vamps that seems to have appeared from nowhere. The Guardians will blame him, and that will make Lisette suspect, too. With life, death and eternity on the line, who can they really trust?
Hello epic kick-ass forbidden love story! Night Unbound is simply A-M-A-Z-I-N-G!! until reading a novella by Dianne Duvall in this series I had no idea what I was missing. Duvall has this innate ability to plunge her readers into the wildness rides of their literary life. Her character are sexy as sin as the kings and queens of badass-ry. I know that's not a real word, but there is honestly no other way to describe it. Unto the characters!
If badass Anita Blake and tough girl with a soft side Rachel Morgan could be wrapped up in a single character, you'd have Lisette. She kicks bat shit crazy vampire ass and looks good doing it. In a typically male vampire dominated literary world, I usually fall instantly in love with a series that features a strong female vampire like lead. Then add in that true vampires go nuts over time and have to be hunted down is just the icing on the cake for me. Lisette also comes equipped with a tragic relationship past of abuse. This only adds to the strength of her character by proving that no matter how bad her past was she can strive to make the future better for herself.
Now sexy as hell Zach is so yummy. He's a unique and powerful kind of mortal who has an interesting past himself. He's not one for the dating and relationship scene until he saves Lisette. Afterwards, he finds himself radiated to where she may be to protect her. Even if protecting her risks his exposure to the group that's hunting him as well as Lisette's group leader's wrath, he will stop at nothing to protect her. As scary as he may seem, he has softness inside of him when it comes to Lisette and his budding feelings for her.
For me, Lisette and Zach's forbidden love made this novel for me. Yes, there's a huge dose of action and mystery surrounding these characters as well as a bit of suspense when it comes to healing injuries. But, truly for me it's the love story. Forbidden love between two people who need that love most in the world just makes my heart and Nook melt. Another perk for me is that Duvall didn't fill their coming together story with angst and temptation. They knew what they wanted and to be damned if anyone stopped them. If you haven't picked up an Immortal Guardians book, I plead that you do so soon. I wanted entirely too long to discover this masterful, badass series!